Literally back to shake up the scene, Melbourne's Mobin Master returns with new version of his early hit 'Unique'. Complete with a fresh round of remixes, this hails directly back to the pinnacle days of clubland, and will encourage worldwide chart action. Expect to hear dominant melodies and rolling drums, perfectly punctuated by the timely vocals of vocalist Kim Cooper. Due out on Australia's no.1 leading Dance label Vicious Recordings 26th March, this almighty tune is set to be circulating all season long.
Quickfire questions, tell us more about Mobin…
I am a life long musician, music lover, producer and disc-jockey! Love all types of music and appreciate them all for what they are. I am inspired by disco, funk and the likes of Prince, James Brown, Parliament and Nile Rogers. 
Name 5 labels that have inspired you?
EMI, Salsoul, CBS, Motown, Casblanca
What's your favourite piece of kit?
TR909 original rhythm composer
Favourite club or festival and why?
Playground festival in Brazil. The experience of playing to a huge audience at 5am with the sun rising and running down the aisle playing live. Amazing production and exciting due to its location.
Name an outlandish rider request?
75 friends on the door at One Love
Favourite clubbing memory?
Too many to speak of, stand out was nights at One Love, Melbourne. 
What quote represents you best?
"Nothing in this world can take the place of persistence. Talent will not; nothing is more common than unsuccessful men with talent. Genius will not; unrewarded genius is almost a proverb. Education will not; the world is full of educated derelicts. Persistence and determination alone are omnipotent." Calvin Coolidge
What first connected you to Vicious Recordings?
Amazingly from a tribal sub-label of Vicious called "Bamboo" which featured some of my very first releases.
Collaborations or flying solo – elaborate on this?
Solo for a very long time and some collabs, but now I prefer to work with others. An extra brain is always welcomed to the party! Others can also provide valuable inspiration.
One song you couldn't live without?
Shall I state the obvious? FML it's SML
Name drop your top tunes, artists or DJs (past or present) and why…
Show Me Love – Cover version that changed the direction of dance music in 2007.
Lights Out (collab with Ian Carey) – he's a great artist and it was signed to Spinnin Records
Day N Night – Kid Cudi (Mobin Master remix) – Released on MOS UK and got loads of plays
Everything You Need – Madison Ave (Mobin Master remix) – big version of Madison Ave's 3rd hit single
What was your first release?
Bamboo Music – Tribal Funk Volume 1. Vinyl release in around 2001.
Tell us more about your current release?
Unique, originally by Danube Dance was covered with my Album in 2008. It features the original singer Kim Cooper. I came across the A Capella and thought, mmm time to a remix or new version. Working with Kane Rayner on a duo called "Rubber People" which is getting a lot of traction on the jackin house charts and the DJ's alike around the world. So thought we would do a version of it. Came up really well and we got Mind Electric on the mix.
Any worldly advice you'd like to share?
The most satisfying thing is to help people and also learn from them. When you meet an expert at something, try and pick their brains and learn from them – it's usually free!
Release 26th March
Mobin Master – Unique (incl. Rubber People & Mind Electric Remixes)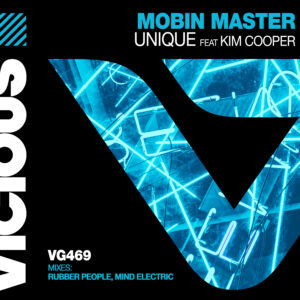 More Info
https://mobinmaster.com
https://safarimusic.com
https://www.facebook.com/MobinMaster1
https://www.instagram.com/mobinmaster
https://twitter.com/mobinmaster
More stuff from around the web